LED & HID lights can cause a tremendous amount of RF Interference. One fix to improve this is using a ferrite choke, sometimes called an RF choke. Both names refer to the same device.

Ferrite beads help eliminate interference in two directions: from a source to your radio. A conductive cable like the input power cord for the HID or LED headlight bulbs behaves like an antenna. The device that produces radio frequency interference can be transmitted through the cable, which acts as an accidental antenna. In this example, the bead may be required to lessen RFI. If other items generate RF interference, like an alternator or injection pump, the ferrite bead stops the cable from acting as an antenna and receiving interference from those other sources.
.
Ferrite chokes are already utilized in everyday items like USB cables, GPS power cords, home surround sound systems, and many others.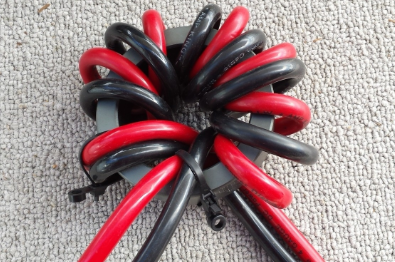 Another option for an LED conversion kit is a ferrite coil which is more extensive and is designed for the power cable to be wrapped around it several times.
Where can I buy them? There are many places, too many to list. Amazon has a large selection; click here to be taken directly to the product page on their site.