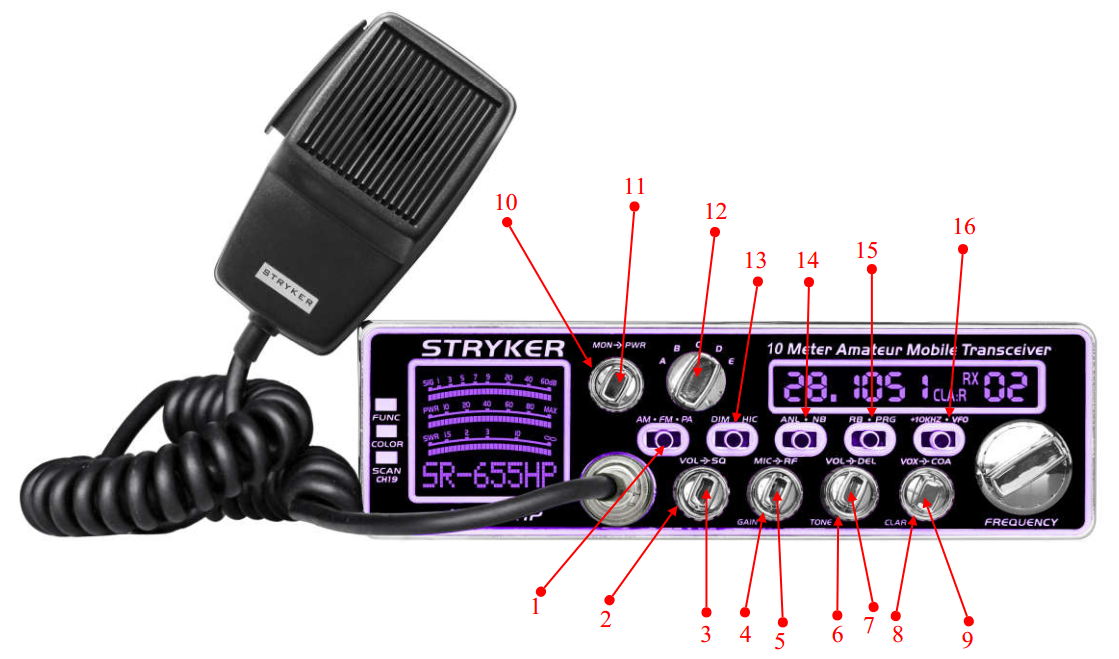 (Click Picture For Larger View)
Mode Switch Set to AM
Receiver Squelch Start with it all the way to the left
Receiver Volume Set to a comfortable level
RF Gain Set all the way to the right
Microphone Gain Set all the way to the right
Echo Delay With the MON (talkback) turned on, set to the desired level
Echo Volume With the MON (talkback) turned on, set to the desired level
Coarse Clarifier Set at FR + 0K
Vox Control Set all the way to the left (off)
RF Power Output Control Set 12 O'clock
Monitor (Talkback) Set to a comfortable level
Band Selector Set to D
Dimmer Switch / Hi-Cut Filter Set to middle position
Noise Blanker / ANL Set to ANL
Roger Beep Switch / PRG Set to middle position
+10 KHz / VFO Switch Set to middle position
If you accidentally change a setting in the function menu, perform a reset and they will automatically be set to the default position.
With the radio turned off, press and hold the FUNC, COLOR & SCAN buttons.
While still pressing and holding them, power the radio on. The radio will display "REST ALL",
Now release the buttons and wait for the radio to display "REST END".
Then turn the radio off and then back on, it's now been restored to the factory software settings.